The girl who was taking us to the opera asked where we intended to have dinner and we told her we would be going for the third time in a row to the Golden Tripod Attic. There was some sneer in her voice when she said "But that's a normal place!" And she was right: the Golden Tripod Attic is a "normal" Beijing place, nothing like the fancy schmantzy Qianmen Quanjude Roast Duck Restaurant where we had some fun eating the all-duck set menu – despite the European couple at the neighboring table keeping a permanently lit cigarette close at hand to puff from between every other mouthful.
Yes, the Golden Tripod Attic is a perfectly normal place where normal Beijing people come for a mildly-priced excellent meal (we paid $25 to $30 for a feast of a meal for the two of us).
We had had our count of the lemon chicken, sweet and sour pork and hot and sour soup that our travel agency imagined was as much as we could take – we were even offered (decent, I need to add) French fries at the Friendship Restaurant on our way to the Great Wall, but it was an utmost relief to find something different, like beef tripe, goose intestine or kidney, that we've learned to get so much starved of in the US.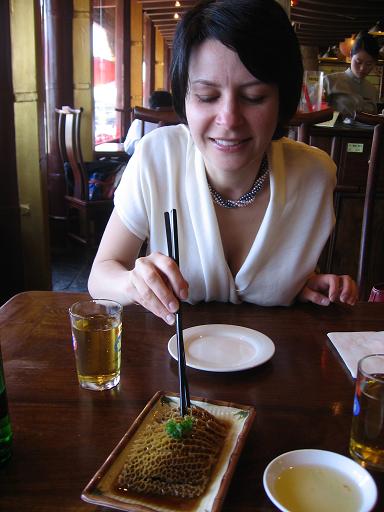 We ate there last night, today for lunch and tonight for dinner again. When yesterday night we first glimpsed at the restaurant's gloriously neon-lit façade, we baptized it the "Food Palace" and that's the way it will remain in our minds, despite the intriguing poetry of its actual name: the "Golden Tripod Attic."
The attic on the 3d floor is where we had our first meal: no open space for tables, but private alcoves separated by screen-like wooden walls reminding – for all I know – of the opium eateries of yore.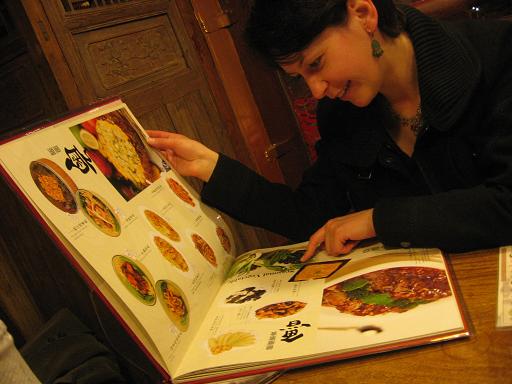 None of the hyper-active young crew knows as much as broken English but don't worry, the menu is of the glitzy glossy magazine type with full illustrations and comments in English – don't go too far in trusting those: the "leek" of the "kidney and leek" look uncannily like cilantro and it is the latter that you'll get in your plate. The wine list however has not been translated from the Chinese and so we stuck unadventurously with beer and tea that we could pinpoint on neighboring tables.
Don't expect that asking for a non-smoking table will get you anything more than a smoke-free six-feet radius from the place you sit: this remains China after all. Requests for doggie-bags or even doggie-cups are welcome: Adriana had to ask for one to take back to the hotel some of the delicious 'shark fin and abalone soup' she had ordered as soups come in the size fit to serve an entire platoon.
The Golden Tripod Attic is open around the clock. It is located across from another four star attraction: the Lama temple.